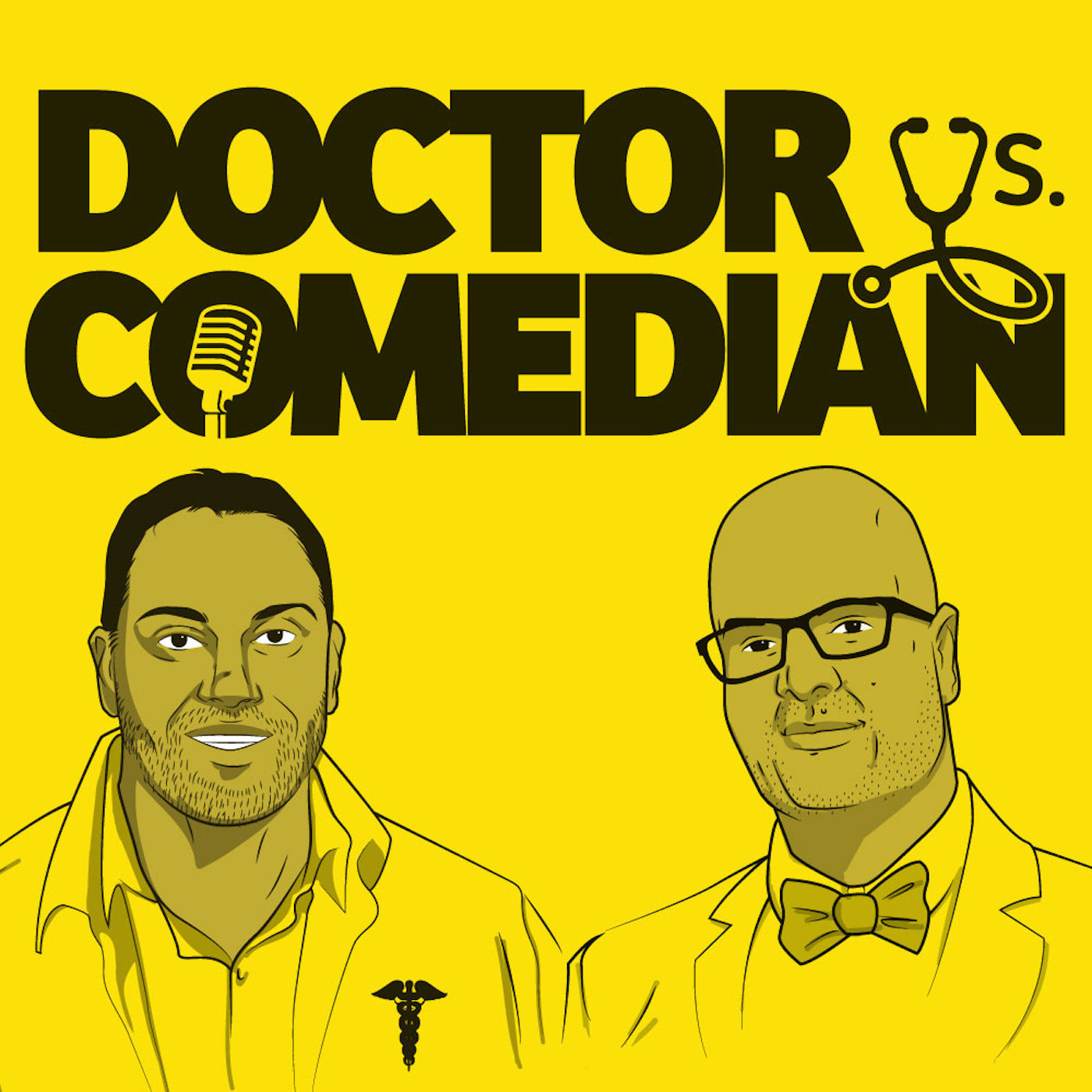 Is Laughter the best medicine? We attempt to answer this and other pressing questions in Doctor Vs Comedian. Dr Asif Doja is a pediatric neurologist and Ali Hassan is a stand up comedian and actor (CBC's Laugh Out Loud, Designated Survivor, Goon) who are each fascinated by what the other one does. In each episode, Asif picks a topic for Ali from comedy and entertainment and questions Ali about it. Then Ali picks a topic from medicine and health and grills Asif on that subject. We talk about serious subjects in an unserious way. If you want to hear about comedy, entertainment, health and wellness and don't want to have to choose between being entertaining AND informed, then this show is for you.
Episodes
Thursday Sep 21, 2023
Thursday Sep 21, 2023
Today Ali and Asif discuss the life and career of singer and actress Selena Gomez (0:54). They start off by discussing her start with children's shows and movies, including her involvement with the Disney Channel. They talk about her philanthropy and their favourite songs of Selena's. Ali and Asif then discuss Selena's recent TV successes including 'Selena + Chef' and 'Only Murders in the Building'. Then then discuss the documentary on Selena's life from last year's 'Selena Gomez: My Mind & Me', on Apple TV+. The guys then talk about Selena's health struggles with both bipolar disease and lupus. Then then do a deep dive into lupus (30:49) and discuss what it is, how it got its name and what causes it. Asif talks about how lupus is "the great mimicker" how how it can cause virtually any symptom in medicine. He then discusses how it is diagnosed and treated. 
The opinions expressed are those of the hosts, and do not reflect those of any other organizations. This podcast and website represents the opinions of the hosts. The content here should not be taken as medical advice. The content here is for entertainment and informational purposes only, and because each person is so unique, please consult your healthcare professional for any medical questions. 
Music courtesy of Wataboi and 8er41 from Pixabay
Contact us at doctorvcomedian@gmail.com
Follow us on Social media:
Twitter: @doctorvcomedian
Instagram: doctorvcomedian
Show notes:
Selena Gomez: My Mind & Me review: a fascinating and frustrating pop doc: https://www.theguardian.com/film/2022/nov/03/selena-gomez-my-mind-me-review-a-fascinating-and-frustrating-pop-doc

Systemic Lupus Erythematosus: https://www.ncbi.nlm.nih.gov/books/NBK535405/

Systemic Lupus Erythematosus: Diagnosis and Treatment: https://www.aafp.org/pubs/afp/issues/2023/0400/systemic-lupus-erythematosus.html

An Overview of Systemic Lupus Erythematosus (SLE) Pathogenesis, Classification, and Management: https://www.cureus.com/articles/114743-an-overview-of-systemic-lupus-erythematosus-sle-pathogenesis-classification-and-management#!/