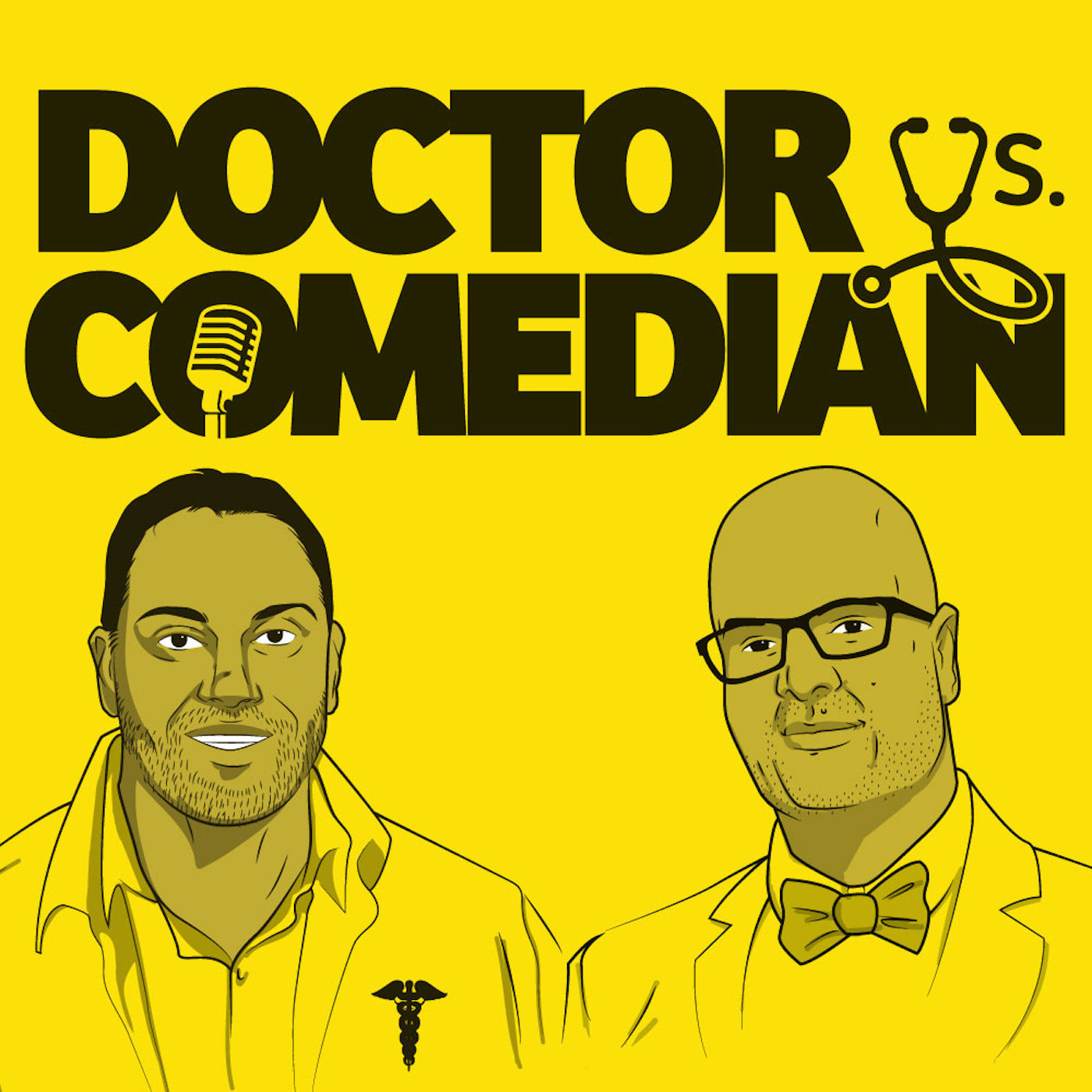 Is Laughter the best medicine? We attempt to answer this and other pressing questions in Doctor Vs Comedian. Dr Asif Doja is a pediatric neurologist and Ali Hassan is a stand up comedian and actor (CBC's Laugh Out Loud, Designated Survivor, Goon) who are each fascinated by what the other one does. In each episode, Asif picks a topic for Ali from comedy and entertainment and questions Ali about it. Then Ali picks a topic from medicine and health and grills Asif on that subject. We talk about serious subjects in an unserious way. If you want to hear about comedy, entertainment, health and wellness and don't want to have to choose between being entertaining AND informed, then this show is for you.
Episodes
Friday Oct 28, 2022
Friday Oct 28, 2022
Today on a very special episode, the guys interview the trailblazing Canadian Music Icon Bif Naked. They start off by discussing Bif's somewhat surprising connection to South Asia. Then then chat about Bif's book from 2016 "I Bificius" and the challenges of opening yourself up in a memoir. Asif then asks Bif about her long standing fascination with medicine. Bif describes her lifelong interest in the field of medicine. Bif and the guys touch on her diagnosis of breast cancer and how that has informed her volunteer work as a death doula. Bif discusses her philanthropy, activism and how she thinks social media is actually a good thing (!). Then, in recognition of October being breast cancer awareness month, Bif highlights how important "the pink ribbon" movement is for those suffering from breast cancer and how vital it is to support charities that fund research into breast cancer. Finally, the guys discuss Bif's new single "Rollerdome" and her upcoming album Champion, as well as the fact that she is the focus of the upcoming documentary by Jennifer Abbott entitled "Bif Naked: One of a Kind". . 
Catch Bif at her upcoming show on November 4th at the Bronson Centre in Ottawa, Ontario!
The opinions expressed are those of the hosts, and do not reflect those of any other organizations. This podcast and website represents the opinions of the hosts. The content here should not be taken as medical advice. The content here is for entertainment and informational purposes only, and because each person is so unique, please consult your healthcare professional for any medical questions. 
Music courtesy of Wataboi and 8er41 from Pixabay
Contact us at doctorvcomedian@gmail.com
Follow us on Social media:
Twitter: @doctorvcomedian
Instagram: doctorvcomedian
Show Notes:
The Magnitude of All Things: https://www.themagnitudeofallthings.com/