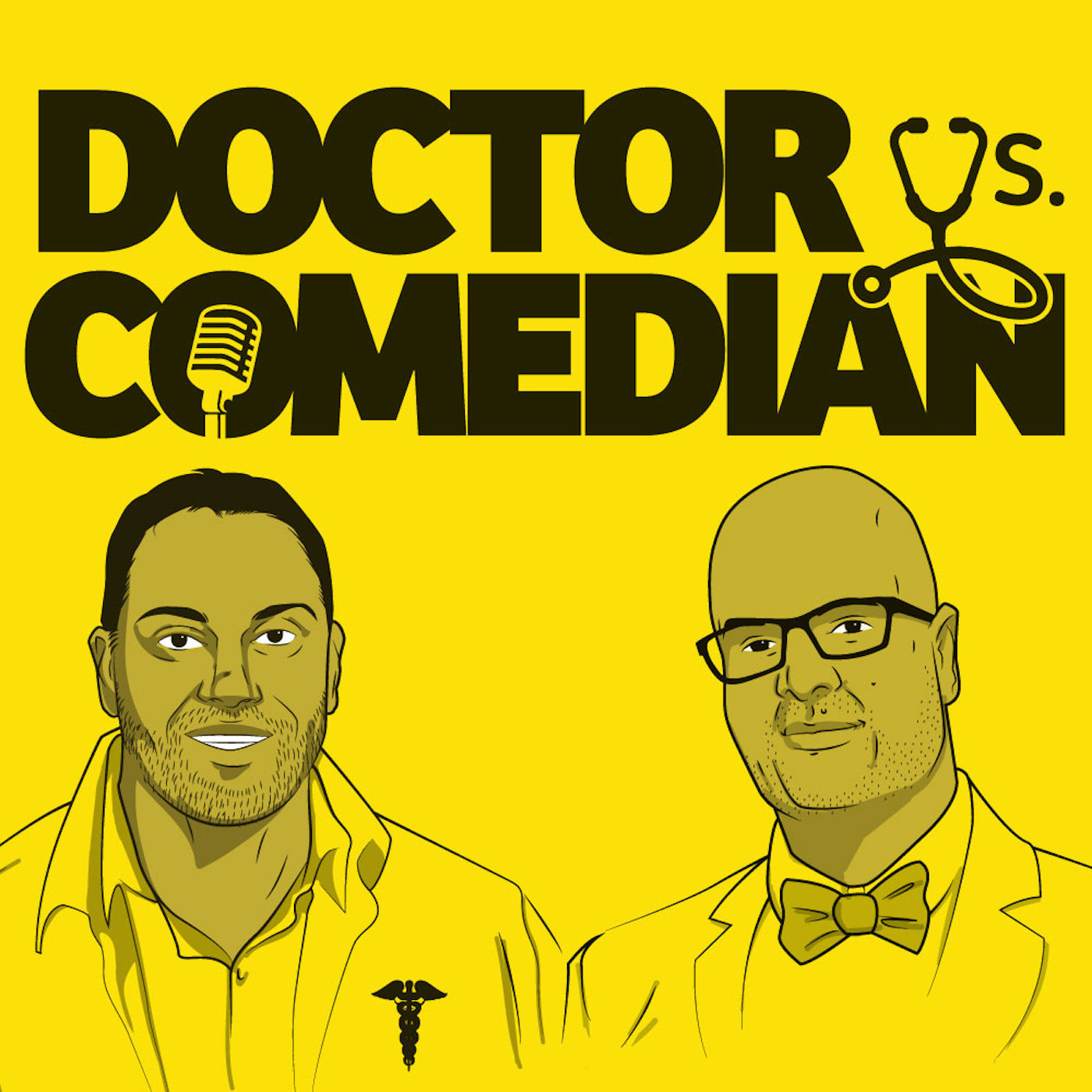 Is Laughter the best medicine? We attempt to answer this and other pressing questions in Doctor Vs Comedian. Dr Asif Doja is a pediatric neurologist and Ali Hassan is a stand up comedian and actor (CBC's Laugh Out Loud, Designated Survivor, Goon) who are each fascinated by what the other one does. In each episode, Asif picks a topic for Ali from comedy and entertainment and questions Ali about it. Then Ali picks a topic from medicine and health and grills Asif on that subject. We talk about serious subjects in an unserious way. If you want to hear about comedy, entertainment, health and wellness and don't want to have to choose between being entertaining AND informed, then this show is for you.
Episodes
Friday Oct 14, 2022
Friday Oct 14, 2022
Today in follow up to our discussion of "Sort Of" with Bilal Baig, we discuss how to improve the health care of trans and non-binary persons. The guys start off their discussion with Dr. Laura Stratton, a family physician with a specialization in 2SLGBTQ+  care who practices at the Connect Clinic in Toronto, Ontario (3:53). They discusses the challenge of trans and non-binary persons in accessing health care. Then they ask Dr. Stratton about how to improve the training of family doctors in 2SLGBTQ+  health during their their residency training. The guys then ask Dr. Stratton about where doctors should start if they are uneducated about 2SLGBTQ+ health and the Trans Health Guide for physicians created by Rainbow Health Ontario and discuss why health care for trans and non-binary patients is such an urgent matter. 
Then the guys chat with Dr. Carys Masserella who is the lead physician at the transgender care clinic at Quest Community Health Centre in St. Catharines, Ontario (29:36) . They discuss how Dr. Masseralla decided on medicine as a career, specializing in emergency medicine, and how she started her transgender care clinic. They discuss how to improve the primary care of trans and non-binary patients including advice on when to refer for hormone therapy and surgery.  Dr. Massarella also discusses the special situation of children who identify as trans and how to counsel parents in this situation. Asif then asks Dr. Massarella about the term "gender dysphoria" and about news reports that the diagnosis of gender dysphoria has been increasing over time. Ali then asks Dr. Massarella about her projects on Amazon Prime's OUTtv channel "My Trans Journey '' and "Translating Beauty". 
The opinions expressed are those of the hosts, and do not reflect those of any other organizations. This podcast and website represents the opinions of the hosts. The content here should not be taken as medical advice. The content here is for entertainment and informational purposes only, and because each person is so unique, please consult your healthcare professional for any medical questions. 
Music courtesy of Wataboi and 8er41 from Pixabay
Contact us at doctorvcomedian@gmail.com
Follow us on Social media:
Twitter: @doctorvcomedian
Instagram: doctorvcomedian
Show Notes: