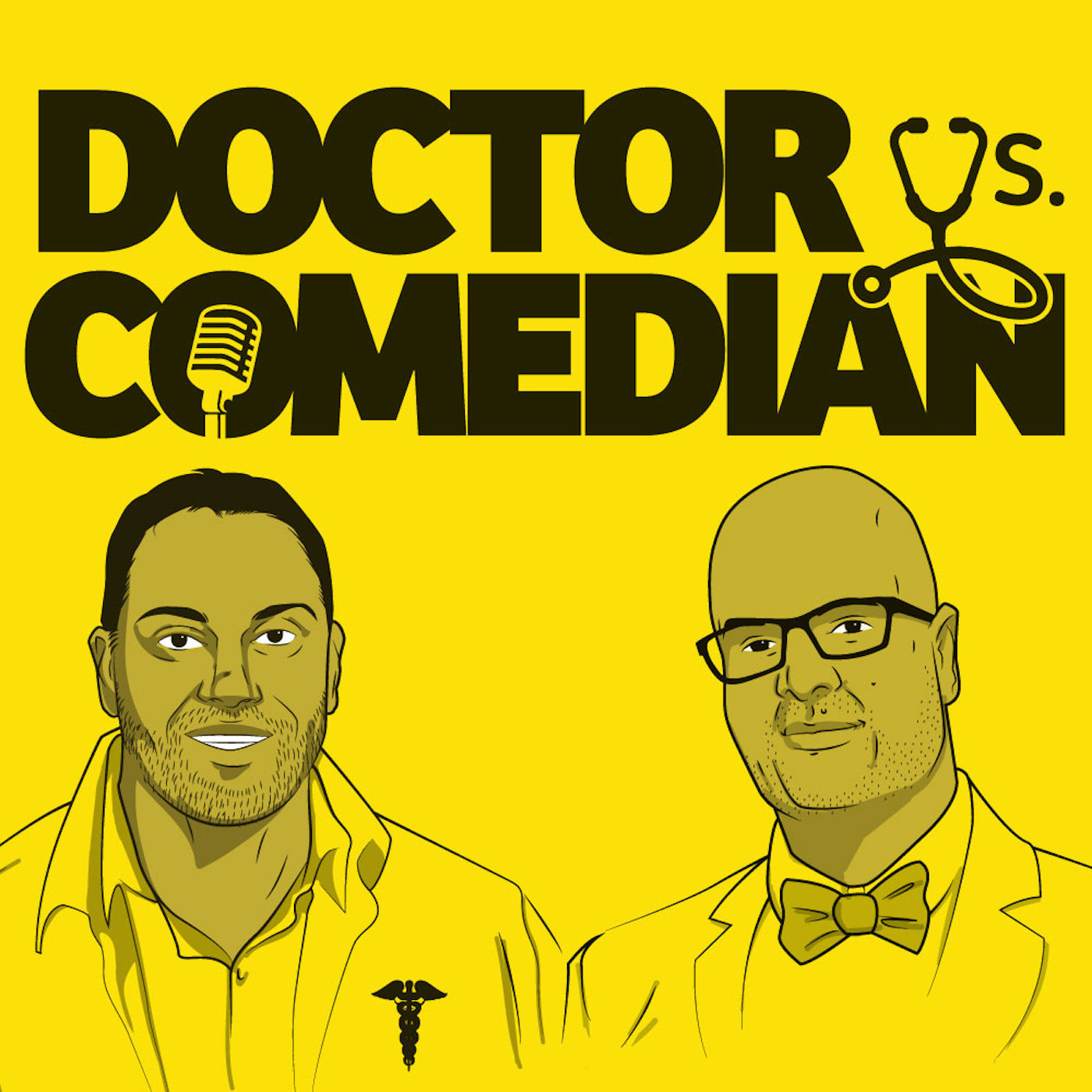 Is Laughter the best medicine? We attempt to answer this and other pressing questions in Doctor Vs Comedian. Dr Asif Doja is a pediatric neurologist and Ali Hassan is a stand up comedian and actor (CBC's Laugh Out Loud, Designated Survivor, Goon) who are each fascinated by what the other one does. In each episode, Asif picks a topic for Ali from comedy and entertainment and questions Ali about it. Then Ali picks a topic from medicine and health and grills Asif on that subject. We talk about serious subjects in an unserious way. If you want to hear about comedy, entertainment, health and wellness and don't want to have to choose between being entertaining AND informed, then this show is for you.
Episodes
Friday Sep 09, 2022
Friday Sep 09, 2022
Today, the guys discuss the life and career of Ashton Kutcher (1:07). They discuss his early life, his family and how he became a model and later an actor. They discuss his early career hits, including 'That 70's Show' and 'Punk'd'. They discuss his marriages to Demi Moore and Mila Kunis and the fact that his girlfriend he was dating in 2001 was horrifically murdered by a serial killer. They discuss his business and investing career and how he is in some way more successful in the ventures as opposed to in acting. They also discuss his controversial ad for "Popchips" involving an Indian accent and brownface. They then discuss how Ashton Kutcher disclosed on an episode of  'Running Wild with Bear Grylls: The Challenge" that he suffers from a rare form of vasculitis which caused problems with his vision, imbalance and equilibrium (16:49). Ali challenges Asif to do 'House MD'- style detective work to try and figure out exactly what type of vasculitis Ashton had. Asif speculates that Ashton may have had a rare type of brain vasculitis called 'Central Nervous System Vasculitis (or Angiitis)'. He then briefly discussed how it is also possible he may have had two other even rarer diseases: Susac's Syndrome and CLIPPERS (chronic lymphocytic inflammation with pontine perivascular enhancement responsive to steroids). 
The opinions expressed are those of the hosts, and do not reflect those of any other organizations. This podcast and website represents the opinions of the hosts. The content here should not be taken as medical advice. The content here is for entertainment and informational purposes only, and because each person is so unique, please consult your healthcare professional for any medical questions. 
Music courtesy of Wataboi and 8er41 from Pixabay
Contact us at doctorvcomedian@gmail.com
Follow us on Social media:
Twitter: @doctorvcomedian
Instagram: doctorvcomedian
Show Notes: