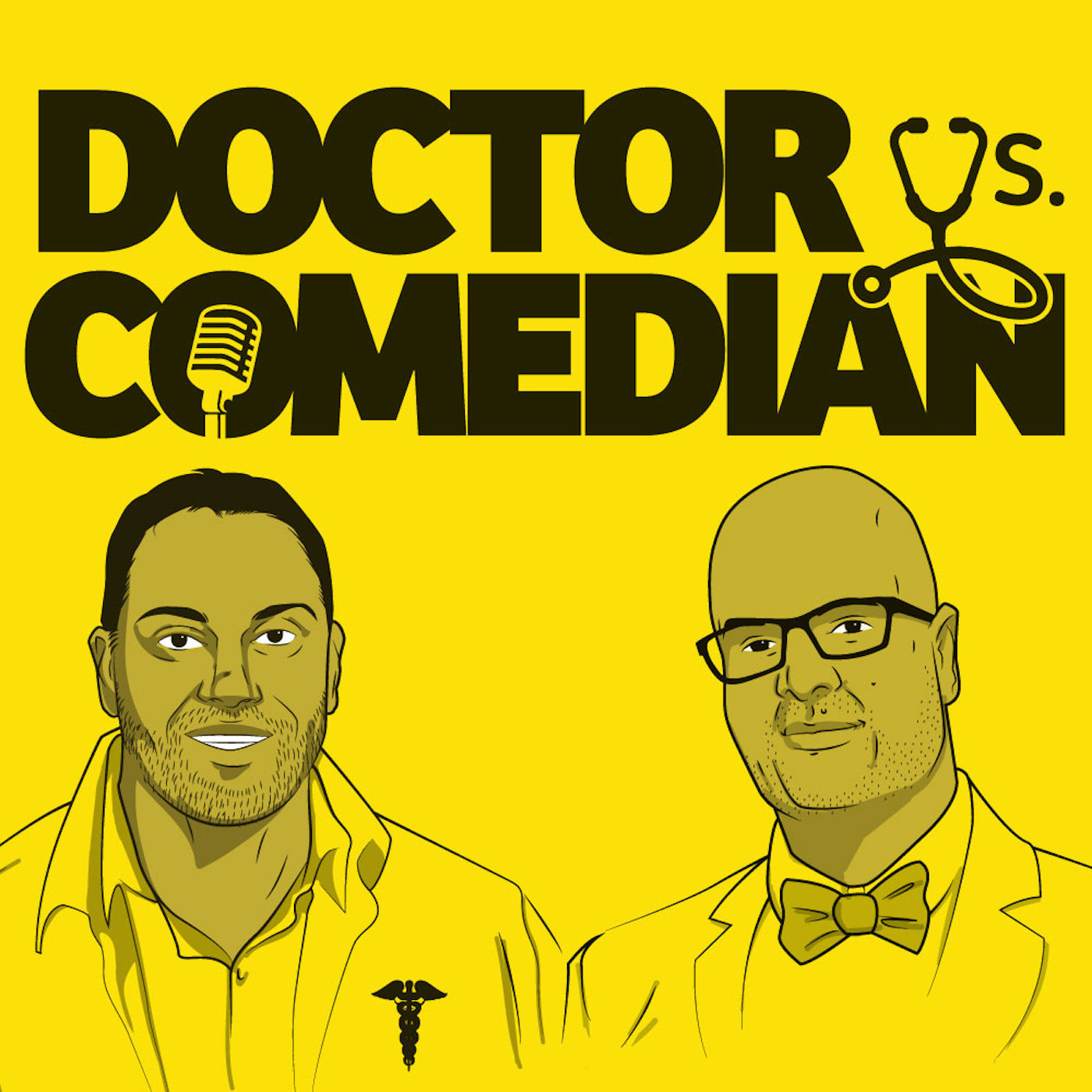 Is Laughter the best medicine? We attempt to answer this and other pressing questions in Doctor Vs Comedian. Dr Asif Doja is a pediatric neurologist and Ali Hassan is a stand up comedian and actor (CBC's Laugh Out Loud, Designated Survivor, Goon) who are each fascinated by what the other one does. In each episode, Asif picks a topic for Ali from comedy and entertainment and questions Ali about it. Then Ali picks a topic from medicine and health and grills Asif on that subject. We talk about serious subjects in an unserious way. If you want to hear about comedy, entertainment, health and wellness and don't want to have to choose between being entertaining AND informed, then this show is for you.
Episodes
Friday Oct 27, 2023
Friday Oct 27, 2023
Today, Ali and Asif discuss the career of actor and comedian Martin Short in response to an article that recently appeared in Slate magazine (1:00). The guys start off by first discussing a bit of background on Martin Short's early life and they provide some interesting trivia tidbits they found while doing their research, including Martin Short's 9 categories for self evaluation. They then discuss the article from Slate magazine 'Why We Keep Putting Up With Martin Short' and the celebrities who came to his defense after the article. Ali and Asf then discuss their favourite Martin short characters and performances. Ali then discusses how Martin Short, Steve Martin and Tom Hanks have 'colonoscopy parties' to prepare for their procedures (27:50). The guys then segue into discussing colonoscopies. Asif talks about the indications for colonoscopies and what happens during the procedure. Asif discusses his experience with colonoscopies and the prep required. The guys discuss what can be found on colonoscopy and what the risks are for the procedure. Finally the guys discuss why the screening suggestions for colon cancer are different in the US vs Canada. 
The opinions expressed are those of the hosts, and do not reflect those of any other organizations. This podcast and website represents the opinions of the hosts. The content here should not be taken as medical advice. The content here is for entertainment and informational purposes only, and because each person is so unique, please consult your healthcare professional for any medical questions. 
Music courtesy of Wataboi and 8er41 from Pixabay
Contact us at doctorvcomedian@gmail.com
Follow us on Social media:
Twitter: @doctorvcomedian
Instagram: doctorvcomedian
Show notes:
Martin Short Presents Canada: https://www.coinworld.com/news/world-coins/martin-short-presents-canada.html

Kathie Lee Gifford Asks Martin Short About Wife, Unaware She's Dead: https://abcnews.go.com/blogs/entertainment/2012/05/kathie-lee-gifford-asks-martin-short-about-wife-unaware-shes-dead

Colonoscopy: https://emedicine.medscape.com/article/1819350-overview?gclid=Cj0KCQjw7JOpBhCfARIsAL3bobc1ODdGgB4e4n6QUzEAOs89p6ATA-jtUK9wWSI8UwJ6n0_UENGGD5MaArW8EALw_wcB&form=fpf

Commentary by CRC Screening Experts: Dr. Dennis Ahnen & Dr. Aasma Shaukat: https://gi.org/2016/02/25/canadian-task-force-recommends-against-colonoscopy/

 FIT testing: a reality check for family physicians: http://www.oags.org/2019FITarticle_omr-2019-08-31-section.pdf