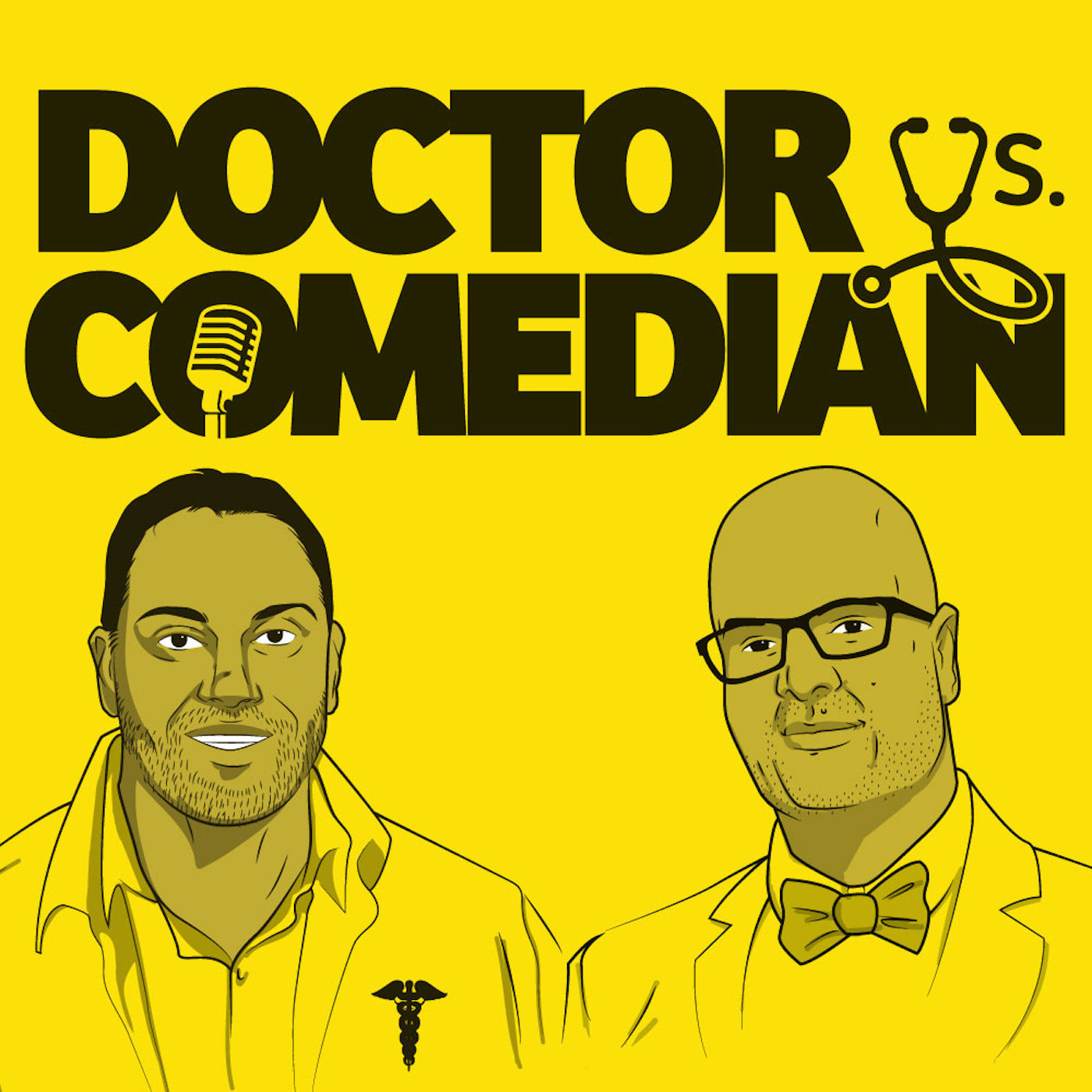 Is Laughter the best medicine? We attempt to answer this and other pressing questions in Doctor Vs Comedian. Dr Asif Doja is a pediatric neurologist and Ali Hassan is a stand up comedian and actor (CBC's Laugh Out Loud, Designated Survivor, Goon) who are each fascinated by what the other one does. In each episode, Asif picks a topic for Ali from comedy and entertainment and questions Ali about it. Then Ali picks a topic from medicine and health and grills Asif on that subject. We talk about serious subjects in an unserious way. If you want to hear about comedy, entertainment, health and wellness and don't want to have to choose between being entertaining AND informed, then this show is for you.
Episodes
Friday Oct 20, 2023
Friday Oct 20, 2023
Today, Asif and Ali discuss the new Netflix docuseries 'Wrestlers' (1:30). The guys discuss the director of the show, Greg Whiteley, and his other shows 'Last Chance U' and 'Cheer'. They then discuss the main characters in the show, including former wrestler Al Snow, talk radio celebrity Matt Jones and breakout star . They discuss their thoughts on the show and how the show is really about showmanship, devotion to craft and putting everything on the line for a dream. 
Then, since a character in 'Wrestlers' has what appears to be a seizure in one episode (mild spoiler), the guys then discuss seizures and pseudoseizures (24:40). Asif reviews the definition of seizures and epilepsy. He then goes over first aid for seizures and the dangers of brain injury with prolonged seizures (status epilepticus). In the show, the seizure appears to be precipitated by a stressful event. Asif explains that stress in and of itself does not really cause seizures, but it can be related to pseudoseizures aka non-epileptic events. These are a psychogenic type of disorder, also called conversion disorder or functional neurologic disorder. Asif talks about how these are often related to underlying stress or anxiety and how they can be related to a past history of psychological trauma. He describes how their appearance can be different from actual seizures and he also explains how a test (EEG) can help to differentiate these. Asif then goes over the treatment for this disorder. 
The opinions expressed are those of the hosts, and do not reflect those of any other organizations. This podcast and website represents the opinions of the hosts. The content here should not be taken as medical advice. The content here is for entertainment and informational purposes only, and because each person is so unique, please consult your healthcare professional for any medical questions. 
Music courtesy of Wataboi and 8er41 from Pixabay
Contact us at doctorvcomedian@gmail.com
Follow us on Social media:
Twitter: @doctorvcomedian
Instagram: doctorvcomedian
Show notes:
Heritage Minutes: Wilder Penfield: https://www.youtube.com/watch?v=pUOG2g4hj8s

A definition and classification of status epilepticus--Report of the ILAE Task Force on Classification of Status Epilepticus:

https://pubmed.ncbi.nlm.nih.gov/26336950/

Childhood trauma and psychogenic nonepileptic seizures: A review of findings with speculations on the underlying mechanisms: https://www.sciencedirect.com/science/article/pii/S1525505015005223

KY Medical Review Board Program: https://drive.ky.gov/Drivers/Pages/MRB.aspx