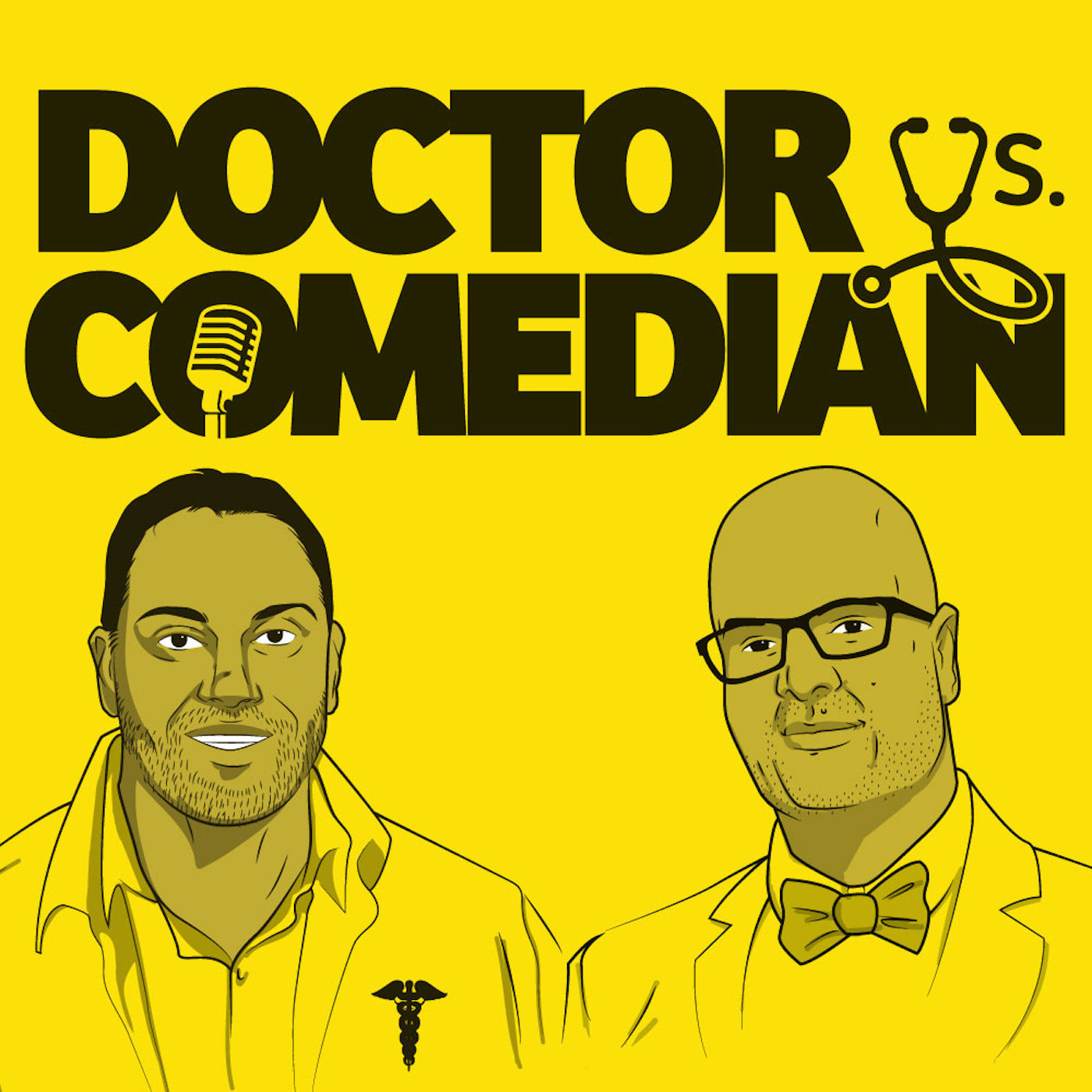 Is Laughter the best medicine? We attempt to answer this and other pressing questions in Doctor Vs Comedian. Dr Asif Doja is a pediatric neurologist and Ali Hassan is a stand up comedian and actor (CBC's Laugh Out Loud, Designated Survivor, Goon) who are each fascinated by what the other one does. In each episode, Asif picks a topic for Ali from comedy and entertainment and questions Ali about it. Then Ali picks a topic from medicine and health and grills Asif on that subject. We talk about serious subjects in an unserious way. If you want to hear about comedy, entertainment, health and wellness and don't want to have to choose between being entertaining AND informed, then this show is for you.
Episodes
Friday Sep 29, 2023
Friday Sep 29, 2023
Today Ali and Asif discuss the career of the man, the myth, the legend, 'The Boss' Bruce Springsteen (2:03). They start off by discussing his early life growing up in New Jersey, his working class background, and how he feels somewhat like a 'fraud'. Then they talk about his nickname 'The Boss' and how people call out "Bruuuuce" in his concerts. The guys then discuss famous covers of his songs and other trivia about Springsteen (Ali also tells a story about meeting Jake Clemons, from the E Street Band). They then each go over their favorite 'hidden gems' from Bruce Springsteen's catalog.  
Then Ali asks Asif about peptic ulcer disease (34:35), since Springsteen had to cancel several dates on his current tour because of complications of this disorder. Asif talks about what it is, how common it is and the main things that contribute to it, namely non-steroidal anti-inflammatory drugs (NSAIDs) and infection with the bacteria Helicobacter Pylori. Asif then talks about the presenting symptoms and how your doctor would test for it. He then goes over the treatment for peptic ulcer disease. 
The opinions expressed are those of the hosts, and do not reflect those of a ny other organizations. This podcast and website represents the opinions of the hosts. The content here should not be taken as medical advice. The content here is for entertainment and informational purposes only, and because each person is so unique, please consult your healthcare professional for any medical questions. 
Music courtesy of Wataboi and 8er41 from Pixabay
Contact us at doctorvcomedian@gmail.com
Follow us on Social media:
Twitter: @doctorvcomedian
Instagram: doctorvcomedian
Show notes:
Springsteen on Broadway:

https://www.netflix.com/ca/title/80232329

How 'Blinded by the Light' Brought Bruce Springsteen's Music to the Screen for a Song : https://variety.com/2019/film/news/blinded-by-the-light-movie-bruce-springsteen-music-director-gurinder-chadha-interview-1203304893/

Peptic Ulcer Perforated: https://www.ncbi.nlm.nih.gov/books/NBK538326/

Peptic Ulcer Disease: https://emedicine.medscape.com/article/181753-overview