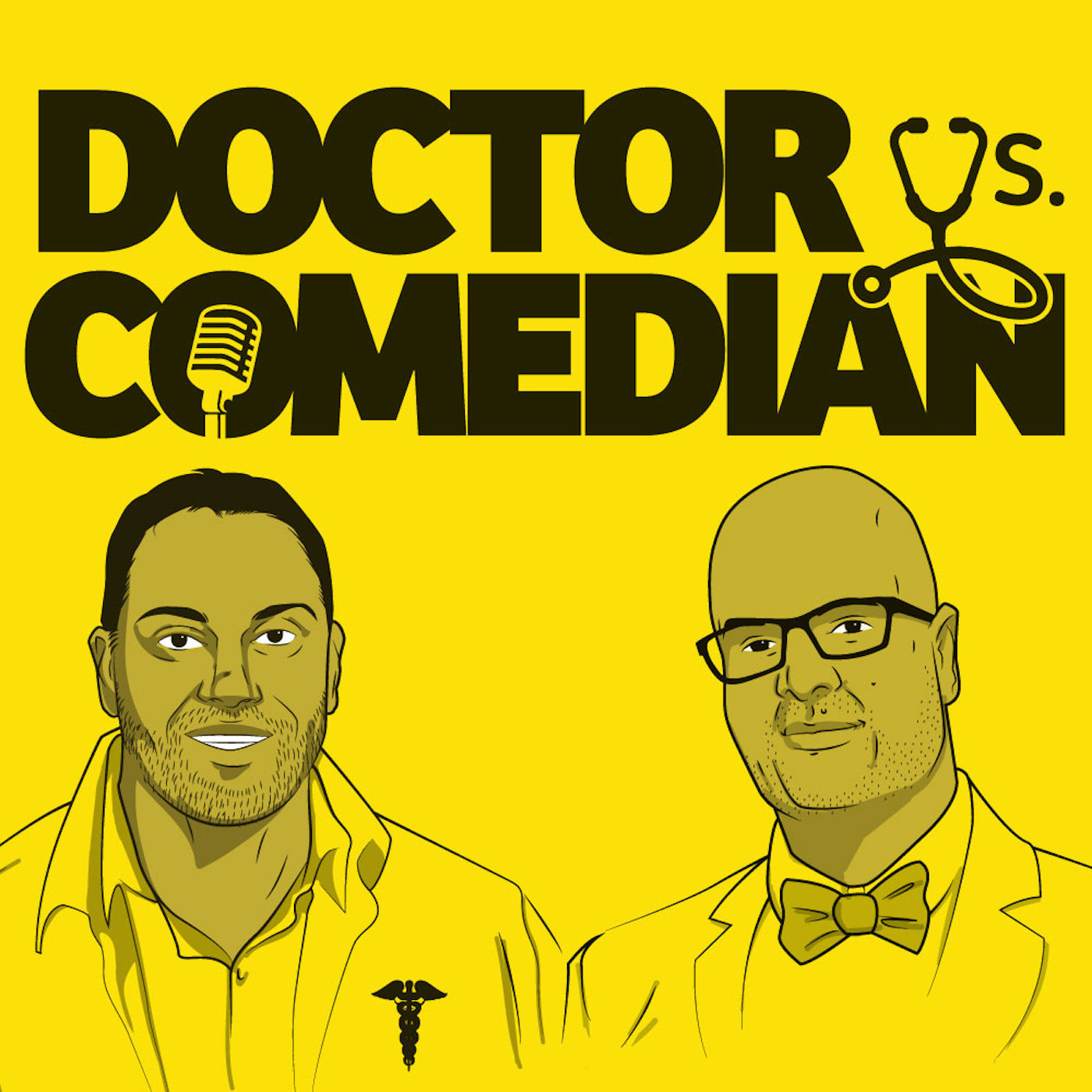 Is Laughter the best medicine? We attempt to answer this and other pressing questions in Doctor Vs Comedian. Dr Asif Doja is a pediatric neurologist and Ali Hassan is a stand up comedian and actor (CBC's Laugh Out Loud, Designated Survivor, Goon) who are each fascinated by what the other one does. In each episode, Asif picks a topic for Ali from comedy and entertainment and questions Ali about it. Then Ali picks a topic from medicine and health and grills Asif on that subject. We talk about serious subjects in an unserious way. If you want to hear about comedy, entertainment, health and wellness and don't want to have to choose between being entertaining AND informed, then this show is for you.
Ali Hassan is a Stand-up Comic and Actor who has performed for audiences across Canada and internationally. Ali is the host of CBC's hit stand-up comedy show Laugh Out Loud, a frequent guest-host of CBC Radio's national flagship arts and culture show "q", and for the past four consecutive years, Ali has hosted Canada Reads - the annual battle of the books celebrating the best of Canadian literature.  Previously, Ali was the lead comedy panelist on George Stroumboulopoulos Tonight, recording over 160 episodes with the show.
Ali has appeared on the big screen in award-winning films – Breakaway, French Immersion, and as the memorable Lebanese 'Uncle Stevie' opposite Sean William Scott, Jay Baruchel, and Eugene Levy in the hockey hit Goon. In 2021, Ali can be seen in the films MySpy, Mafia Inc, and Tammy's Always Dying which had its World Premiere at TIFF 2019.
His past television roles include Blood & Treasure (CBS), Designated Survivor (ABC), Cardinal (CTV), Holiday Calendar (Netflix), Fubar: Age of Computer (VICE), Odd Squad (PBS Kids), Man Seeking Woman (FXX) and Game On (YTV).  And in 2021 you will be able to see him on the new seasons of Working Moms and Murdoch Mysteries. 
Ali has performed at the Just For Laughs Festival in Montreal and Toronto's JFL42.  In Fall 2019, Ali toured across Canada as one of the stars of Just For Laughs Comedy Night In Canada tour, hosted By Rick Mercer. And summer of 2021, Ali's recent sets from Just for Laughs: Comedy Night in Canada and the Winnipeg Comedy Festival will air on television. 
A Canadian Comedy Award nominee, Ali has toured his solo show Muslim Interrupted around Canada to great acclaim. He has taken the show to Scotland to perform at the world's largest comedy festival, the Edinburgh Fringe Festival.  In 2021, Ali begins touring his latest one man show, based on his decade in the food industry, Does This Taste Funny?